Curriculum
Curriculum Intent
At St Thomas CofE Primary Academy, we aim to provide our pupils with a broad and balanced education that will help them to achieve their God-given personal and academic potential. We secure a curriculum of excellence by ensuring the content and structure are built around evidence-led pedagogical practice. Through careful sequencing, new knowledge builds on previous learning and ensures pupils develop a deeper understanding and are constantly building a network of information around connected ideas in the long-term memory. We structure our curriculum through asking 'big' questions. We provide opportunities for our children to develop spiritually in curriculum blocks through our windows, mirrors and doors approach.
We ensure our subjects are taught discretely and the knowledge is built upon lesson-by-lesson, block-by-block and year-by-year. Retrieval practice is frequent and embedded through a wide range of tasks. Children are fluent with what they know, making connections to other areas of the curriculum with quality questioning supporting this. Our children thrive on telling you what they have learnt and are accurate and articulate with their vocabulary and knowledge.
Click on the icons below to explore the curriculum content and progression of knowledge including the key vocabulary pupils should use in different year groups.
Early Years Foundation Stage
At St Thomas', our aim is to create a learning environment and build relationships which support, enhance and invite a child's curiosity, confidence and individual competency to flourish. We aim to work collaboratively with parents and carers to encourage independent, enthusiastic learners who thrive and reach their God-given academic and personal potential. It is our intent that children who enter our EYFS begin their lifelong learning journey by developing physically, verbally, cognitively, spiritually and emotionally whilst also embedding a positive attitude to school and a love of learning.
To ensure children make outstanding progress, it is our intent to take into consideration their starting points and needs of our pupils as they begin their learning journey. Every child has access to a broad, balanced curriculum which prepares them for now and for the future in terms of opportunities and experiences. We follow personal interests and individual needs to plan and provide opportunities throughout our EYFS curriculum to support learning and development and achieve their next steps. All children will receive the teaching of early reading through systematic, synthetic phonics to learn to read words and simple sentences accurately by the end of Reception.
Wider Curriculum
The grid below demonstrates the 'big' question progression subject-by-subject throughout each year group for Autumn Term.
Big Question Curriculum Planning Autumn 1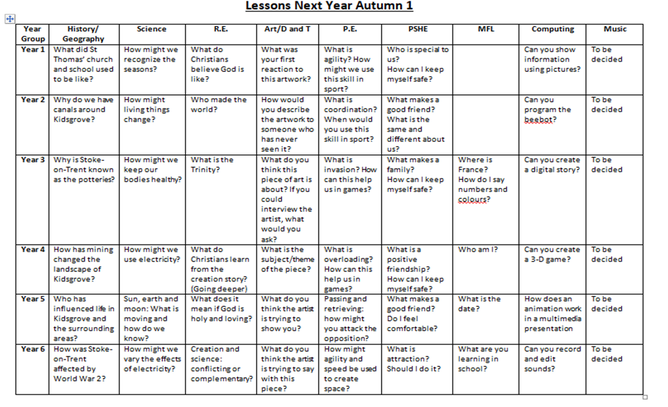 Big Question Curriculum Planning Autumn 2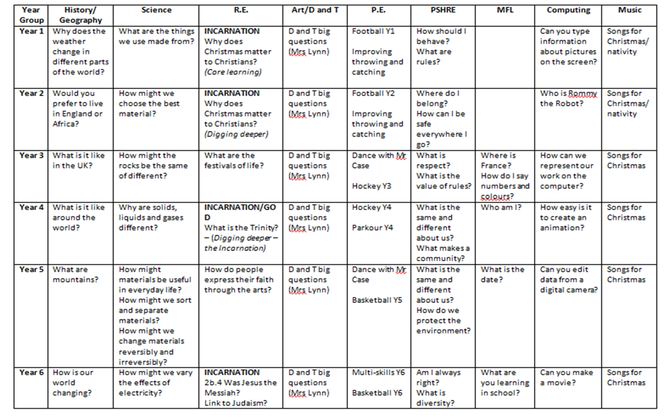 National Curriculum
For more information regarding the curriculum we follow, please see the link below.